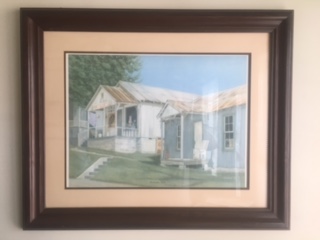 Don Ensor Antique Store Framed Print & Matted
SKU: BT003
$75.00
$75.00
Unavailable
Beautiful Vintage framed print by C. Don Ensor " ANTIQUE SALE" In Very Good Condition.

VIVID COLORS & THE DETAILING ARE SUPURB IN THIS ART PRINT! THE ART IS ON A BLUE BACKGROUND, GREEN TREE WITH CREAM
AND BROWN COLOR ANTIQUE STORE.

ANTIQUE SALE by C. Don Ensor Double Signed Limited Edition Print Framed & Matted from 1986
Print measures approx. 17"T x 23"W
Has wire on the back for hanging .
Signed Print

Available for preview or purchase at our office 216 S. Buckman St., Shepherdsville, Ky. 40165. Our call Bruce @ (502) 955-7342.

No Shipping Available.